Welcome to the Fora Sports Trading Co.
Monthly Auction House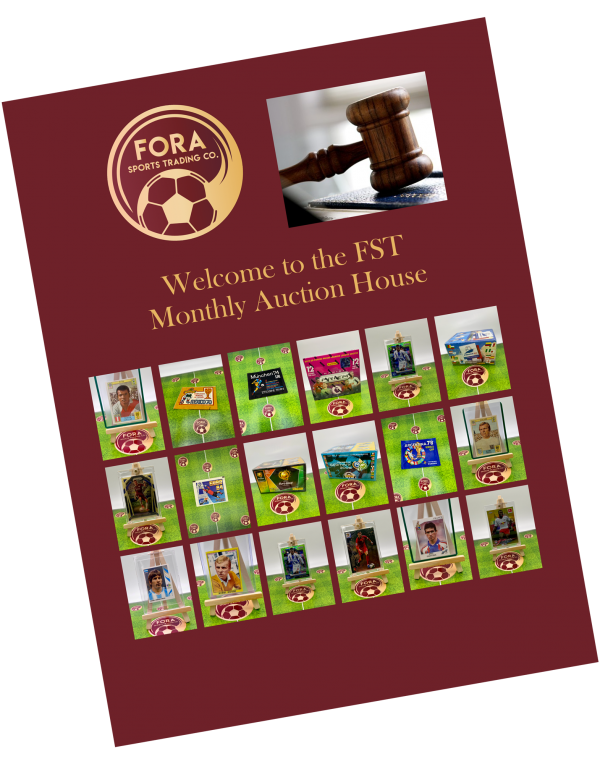 Coming Up
---
Live Auction in-store & Live Stream
We are excited to announce the commencement of our Monthly Auction House, with auctions taking place on or around the 1st Sunday of every month.
Our auctions will consist of 100+ Lots consisting of either individual cards/stickers, sealed packets, boxes, job lots and collections.
If you would like us to auction your items, or you would like to register to bid, please get in touch.
Auction Dates
From 3pm onwards:
Sunday 30th May 2021
Sunday 1st August 2021
Sunday 27th June 2021
Sunday 22nd August 2021
Sellers
---
We offer a fast, professional and friendly service to all those looking to sell cards/stickers across the UK.
With over 30 years of experience, we have built up a strong presence in the hobby giving your sale items access to a broad range of collectors across the globe.
If you are considering auctioning your cards/stickers or have any questions about the process, then please contact us or complete the Valuations & Consignment enquiry form .
Bidders
---
All prospective bidders must register to bid 48 hours prior to Auction. Please download and complete 'Register to bid' form, and email it to auctions@forasportstrading.co.uk. You will receive your Unique Paddle Bidding Number on registration completion.
We will email you a monthly auction catalogue, containing all lots for sale. All winning auction bids must be paid immediately after auction ending.
How to bid
---
It is possible to register a bid, up to 48 hours prior to the live Auction, as long as you are registered.
To bid in advance (absentee bidding), you must submit your maximum bid via email or by telephone. You can also bid via live stream, via telephone during live auction, or in person in the auction house. No bids can be retracted once made.
All winning bids must be paid for immediately after each lot's auction ends.
Book your seat
---
Anyone registered to bid, can book their seat in-store to watch the live auction.